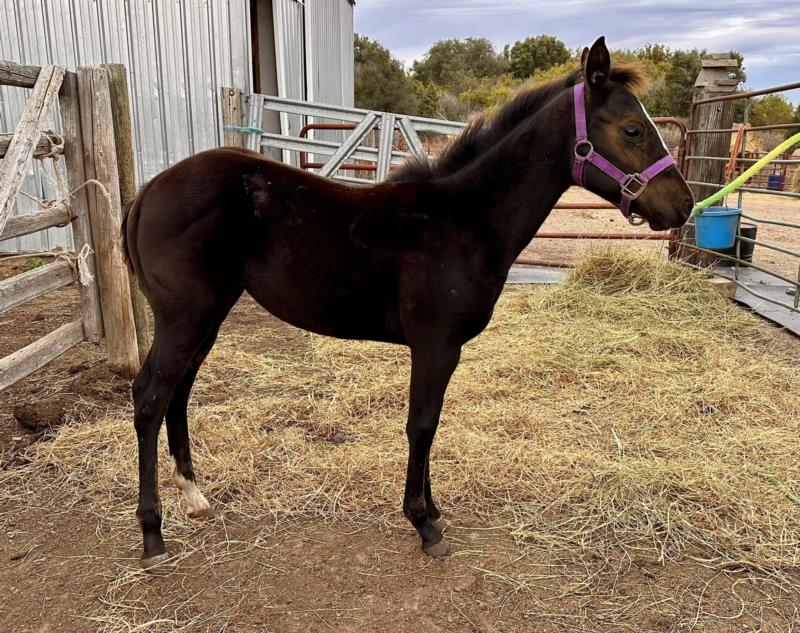 CHQH Poco Eagle Girl, 'Oakley'
Smoky Black Mare
DOB 05/08/22
6 Panel N/MY
EE aa N/Cr nd1/nd2

FQHR Mr Poco McKeag x CHQH China Bill Girl

By FQHR MR POCO MCKEAG (2016). His first foals arrived in 2019. He is homozygous EE and can only sire black based foals.

A grandson of POCO BLUE PEPPY, sire of:
KROS KALCUTTA (ARHA World Ranch HorseChallenge Junior Ranch Reining Reserve Champion)

Son of POCO BLACK ZANTANA; sire of 2 money-earners, including;

ZANTANAS BLUE (Turn N Burn Barrel Racing Showdown N Cascades Open 5D winner)
KROS POCO BLUE GIRL (American Ranch Horse Assoc. World Ranch Amateur Trail Reserve Champion)

1st dam, CHQH China Bill Girl (2010) is a perlino daughter of COLONEL TI CUTTER. She is double-bred CUTTER BILL!

Dam's sire COLONEL TI CUTTER, sire of 2 money-earners, including:

CHQH PEPOLENA CUTTER (AQHA point-earner)
CHQH COLONELS STAR (North Central RCHA Derby $1,000 Limited Open Co-Reserve Champion)
CHQH HOLIFRECKLES (top 10 Old Fort Days Barrel Racing Open 4D class).

Grandson of COLONEL FRECKLES, $46,305 and an AQHA point-earner: NCHA Open Futurity Champion; finalist in the NCHA Open Derby. Sire of 361 money-earners, $5,059,139, and earners of 2,774 AQHA points, including:

COLONEL LIL ($244,145: NCHA Open Futurity Champion)
COLS LIL PEPPER ($186,118: NCHA Open Futurity Reserve Champion)
COLONEL FLIP ($171,865: split 3rd NCHA Open Futurity)
CURLY RODE HER MA ($159,782: split
3rd Gold and Silver Cutting Stakes 4-Year-Old Non-Pro)
COLONEL LEO BAR ($142,989: NCHA Open Super Stakes Reserve Champion; NCHA Bronze Award)
GLOW A FRECKLE ($136,466: PCCHA Open Futurity Reserve Champion).

Oakley's second dam is heavy bred Poco Bueno and the true foundation horses that helped create the American Quarter Horse we so commonly see today.
Request Information!
FQHR Mr Poco McKeag




Homozygous Black, Blue Roan Stallion


Click here for More Info!

---

Keotae

---

Poco Blue Peppy

---

Kros Burbon N Blues

---

FQHR Powder Blue

---

FQHR Red Star McKeag

---

FQHR Roan Bar Lynx

---

CHQH China Bill Girl




Perlino AQHA Mare

---

Colonel Ti Cutter

---

Colonel Killian

---

Cutters Tia Maria

---

Poco Feather Girl

---

Poco Eagle Feathter

---

Hawks Girl

---