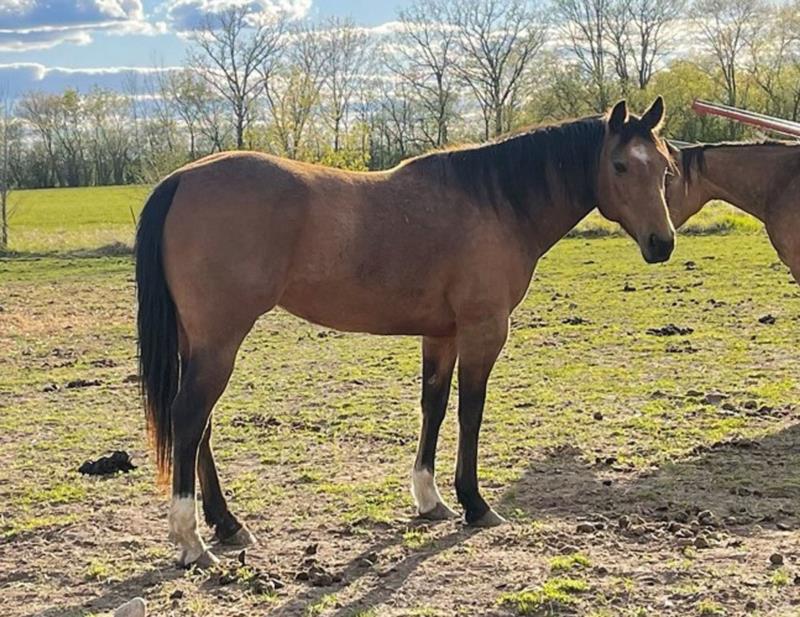 6 Panel NN
Ee Aa Cr/n
Lena is by a perlino son of Shake Shiver N Shine (AQHA P-217.5, LTE $5,564.49) and out of a good bay daughter of Catalena Boy (NCHA LTE $13K PE $57K+). Her parents were never shown but have produced very versatile, all-around ranch and riding prospects. They are calm, easy to get along with and of course buckskin!
Once upon a time I found this mare at the Fall 2014 Hermanson Kist sale. I was not there looking for a horse but I saw her in the ring and I just knew I had to have her. We brought home the sweetest, smartest, most beautiful buckskin filly and fell in love instantly. Lena was basically born broke, there is not a mean bone in her body! We kept her until she was a coming three year old and then unfortunately had to sell her to a good friend because I lost my job.
Flash forward a couple years later to 2021 and we were given the unbelievable opportunity to get Lena back! Now, she is a mature mare that is broke to death and still just a love bug. She had a big bay colt in 2020 and was an amazing mom. We are so blessed to bring her home and to have her spend the rest of her days with us. Brad will use her as his primary riding buddy and we may even raise a few babies out of her down the road.
Request Information!
Shiver N Shine Two

---

Shake Shiver N Shine

---

Shining Spark

---

Continental Jane

---

PJS Poco Tivio Two

---

Sweet Sandy Tivio

---

TP Flying Tivio

---

Catalena Dancer

---

Catalena Boy

---

Doc O'Lena

---

Kate's Sugar

---

Tuffs Little Honey

---

Tuffys Tardy Bay 80

---

Miss River Styx

---