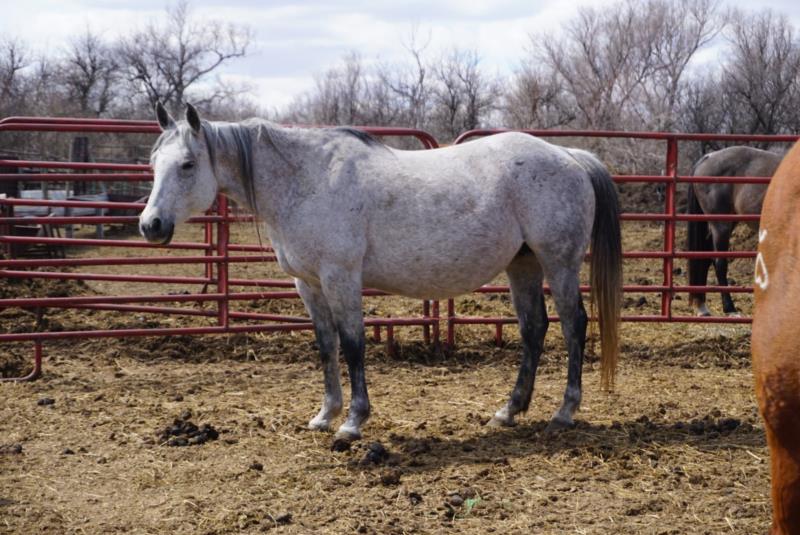 92% NFQHA
5 Panel NN; N/G (Gbed Carrier)
EE AA nd1/nd2 GRAY
Dusty Blackburn Girl, came off the Buller Ranch in Wing, ND. Leland and Debra Buller spent 50 years raising and breeding Blackburn and Poco Pine bred horses. Dusty is an amazing mare that has produced many solid ranch horses. She is sweet as can be and her babies are always just as sweet.
Very excited to have this excellent foundation mare in our herd. She has all of the shape and structure that the true old school quarter horses had and always passes it down to her babies. She stands roughly 14.1hh, has a nice head and cute ears. She is just a broodmare for us and has done very well.
Request Information!
POCO BLACKBURN PINE

---

EL TAUR

---

PINE POCO SCOOTER

---

SUGAR BABY PINE

---

LIL LEMON JOY

---

FORTY CABALLEROS

---

BLACKBURNS LIL JOY

---

DUSTY BLUE COWGIRL

---

JUNE BERRY DUDE

---

EL NINO'S DUDE

---

JUNE BERRY EVANS

---

MISS DUSTY COWGIRL

---

SIMBA STEADY

---

PIXIE'S ANN

---