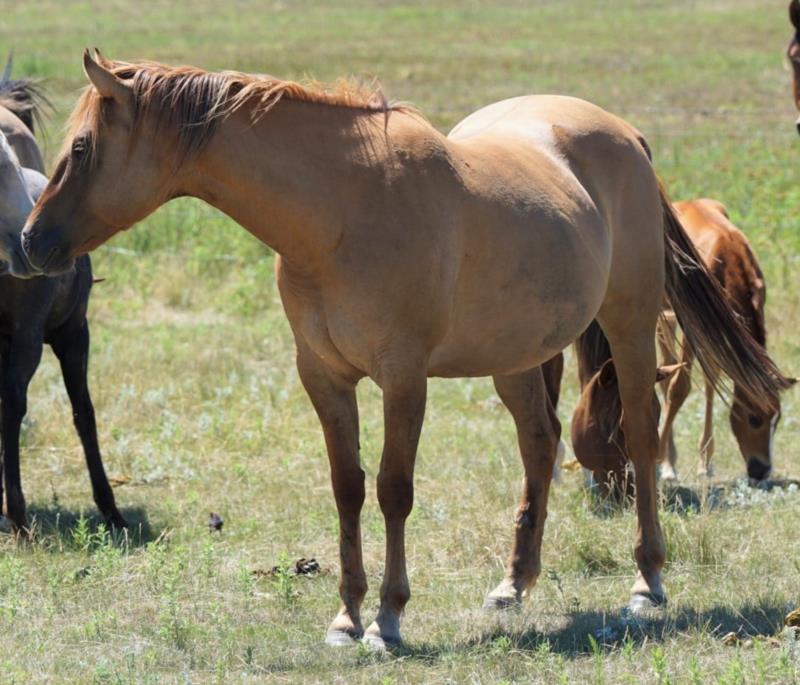 5 Panel NN
Spark, is a red dun granddaughter of the great Casady Casanova (LTE $157,153 PE $6,712,576). Casady Casanova has an outstanding race and produce recording including: AQHA Race SI-96/AAA/ROM/SW, 12-6-3-1; 74 Stakes winners; 219 90+ ROM; 75 100+ ROM; and 534 race ROM; 26 Superior Race; 1 World Champion; 1 Race World Championship; 1,409 race offspring wins; 22 Barrel race money earners.
Spark's female line is just as powerful with strong ties to the Wiescamp, Skipper W horses. She is one of the broodmares we are building our program around and cannot wait to see what she produces! She goes back to Gold Note, AAA AQHA Race SI-95/AAA/ROM, 31-8-5-3, LTE $7,531; 1955 AQHA Race High Point 3 yr old Mare; Dam of ROM Race:
D Or Note(68)by Go Man Go
Golden Note(59)by Palleo Pete
Johns Note(70)by Father John(TB)
Midnight Note(65)by Go Man Go
Palleos Note(58)by Palleo Pete
Shining Note(63)by Palleo Pete
Winning Note(60)by Clabbers Win
Spark has the color, confirmation, and brains to produce some excellent ranch and arena prospects. You will be seeing her babies in the barrel pen in the near future. We hope to see some make it into heading and heeling as well! You just can't go wrong with this great lineage.
Request Information!
CC ROYAL RED

---

CASADY CASANOVA

---

TOP MOON

---

TWAYNA

---

GO ROYAL RED

---

MR GO BID

---

GOLD CLIPER

---

NOTE BY LADY SPARK

---

SPARK NOTE

---

WINNING NOTE

---

HALF SPARK

---

SHARP SHADY LADY

---

SHARP SKIPPER

---

BLAZETTE BAR

---