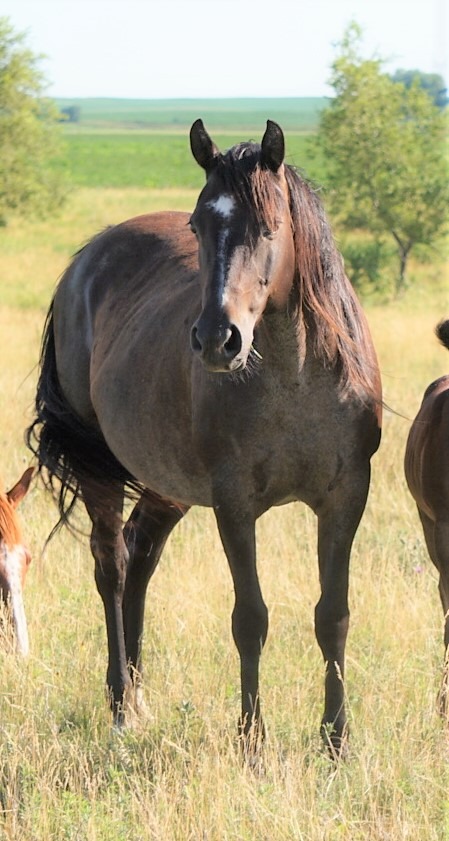 91% NFQHA
EE Aa Rn/rn; 5 Panel NN
Badger's Foundation certificate is back and we are happy to say she is 91% NFQHA!! Badger is Homozygous EE, meaning she will NEVER have a red based foal and we received her panel tests and she is NN across the board. This mare just can't do wrong by us in anyway.
Badger's Sire, Rio Blue Badger, is one of the pillar stallions in the Froelich Legacy Quarter Horses breeding program. They have been breeding and producing excellent ranch, all-around, and arena horses since 1948. Rio Blue Badger has produced over 50 foals and has never produced a red baby. He was never color tested but it seems he was HZ EE. He is Skipper W bred and a true foundation sire. He's a wonder combination of color, class, and brains that he has consistently passed on to his foals, including our Badger!
Badger's Dam was bred and raised from the Froelich ranch program as well. Badger's maternal sire, McKeag, was the senior sire and backbone to the Froelich Legacy Quarter Horses breeding program for 32 years. He left behind a legacy of solid, good-minded, ranch horses and they Froelich's have kept many of his sons and daughters back to continue their breeding program.
Our Badger carries all of the attributes that the Froelich's breed for and she consistently passes that on to her foals. She is a key mare to our program and we are excited for everything that she has produced and will continue to do so.
Request Information!
RIO BLUE BADGER

---

RIO VALENTINO

---

RIO RIPPLE

---

RIO JUDY ZANTANON

---

LDK BLUE RIO LETA

---

SAN BADGER BLUE

---

RIO LETA TOO

---

QUINCY MAGNOLIA LASS

---

MCKEAG

---

JOE QUINCY

---

BABY SNOOKS BAR

---

QUINCYS CLEVER LASS

---

JOE QUINCY

---

CLEVER JACKIE

---